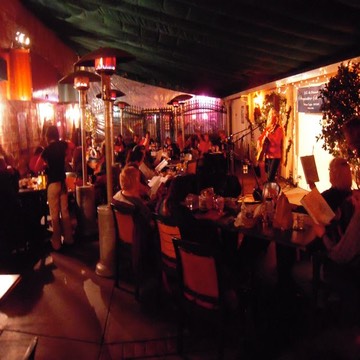 The J.C. & Friends Songwriter Serenade is held every Tuesday night from
7PM ~ 9:30 PM at Matt Denny's Ale House in Arcadia, CA 145 E. Huntington Dr. 1 1/2 blocks East of Santa Anita on the north side of the street. The show is on the patio that is covered and mostly enclosed. There are heaters, but do dress warm.
This Week's Drink Specials
Brew ~ Anchor Christmas Ale $4.50

Cocktail ~ Hot Apple Cider with Sailor Jerry Spice Rum $5.00
Santa's Favorite ~ Eggnog with Brandy $5.00
Songwriter's play their original material of all different styles & genres in a wonderful atmosphere starting at 7PM. There are 3 or 4 different songwriters each week.
No cover charge.
There is great food, wine and beer specials. Come out and enjoy a fantastic evening of live music!
Nov 23rd line up
Past Performers

Lisa Turner

,

Robert Morgan Fisher

,
Tracy Newman

, Lorin Hart,

Phil Ward

,

Rick Shea

,
Tom Corbett
,
Tom Renaud
, Marty Axelrod,
Tim Tedrow & Terry Vreeland
,
Nicole Gordon,
John Zipperer,
Alina Smith,
Paul Marshall,
Katie Garibaldi
Dec 14th - Christmas Carol Show ~
John Torres,
Shaun Cromwell
John M. , Craig Aldrich,
Kristy Hanson, Joe Palmieri
SSPA Volunteers Needed
The SSPA or Songwriter Serenade Promotion Army needs you! In order for this to be a huge success, I'll need folks to help spread the word. For example, putting up a flyer at your work place, sending out a mass e-mail to friends encouraging them to come out, social network announcements, getting organizations to have a "night out" on one Tuesday a month...etc. If you'd like to help, please let me know!!! Thank you! ~ JC
Want to play?
To be considered to perform at the Songwriter Serenade, simply e-mail JC with a link to your website that has a sample of your music, and places you've performed at. Put "Book Me" in the subject line. jc at jchyke.com